To achieve carbon neutrality, Korea plans to reduce greenhouse gas emissions by 40% compared to 2018 by 2030. To achieve this, it plans to manufacture 4.5 million eco-friendly vehicles such as electric vehicles and hydrogen-electric vehicles. In detail, it plans to increase the sales of eco-friendly cars, which accounted for 12% (226,000 units) of total new car sales in 2020, to 910,000 units, or 51%, by 2025, and 83%, or 1.5 million units, by 2030. In addition, it plans to install more than 500,000 charging infrastructures by 2025. In addition, the government plans to lower barriers for electric vehicles by supporting the localization of electric vehicle parts materials and the development of dedicated platforms.
Genesis plans to launch only electric or hydrogen-electric vehicles from 2025 under the 'Futuring Genesis' strategy. In addition, it plans to produce a total of eight electrified model lineups by 2030 and expand sales to 400,000 units annually in the global market. As part of this strategy, Genesis recently introduced electrified models of the G80 and GV70, as well as the dedicated electric vehicle GV60. The automaker is committed to becoming a carbon-neutral brand by 2035, not only by electrifying internal combustion engines, but also by reducing carbon emissions across the entire value chain, from raw materials to production.
Hyundai Motor plans to increase the proportion of electrified vehicles to 30% in 2030 and 80% in 2040 to become carbon neutral in 2045. Currently, Hyundai is introducing an electric vehicle lineup through IONIQ, a pure electric vehicle brand that applies E-GMP, a platform dedicated to electric vehicles. Following the IONIQ 5, which received a great response worldwide this year, the company plans to launch two new electric vehicles, a mid-size sedan and a large SUV. Back in 2020, the concept car Prophecy was unveiled, allowing people to predict what the second model of the IONIQ brand will look like; And recently, the automaker also announced the electric SUV concept car SEVEN, a large SUV that will be the third lineup of IONIQ at the LA Auto Show.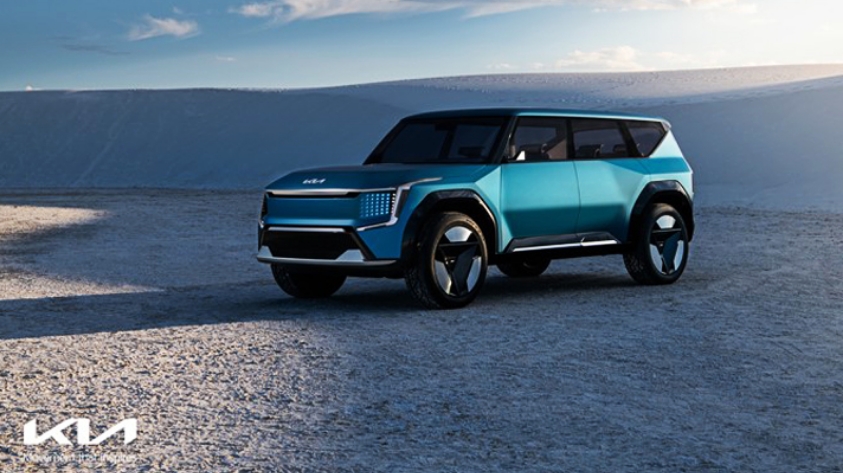 The Kia Concept EV9 embodies Kia's electrification philosophy
Kia plans to become a sustainable mobility brand through the mid-to long-term strategy 'Plan S'. By 2027, Hyundai Motor Group will introduce seven new dedicated electric vehicles that house E-GMP, the exclusive electric vehicle platform of Hyundai Motor Group. Starting with the EV6, Kia set a goal of securing a 6.6% share of the global electric vehicle market by 2025 and achieving annual sales of 500,000 electric vehicles by 2026. The Kia Concept EV9, the first large electric SUV concept that was recently unveiled, also shows Kia's strategy. Through this, the automaker plans to become a truly eco-friendly brand by selling only electrified models from 2035 in Europe and 2040 in major markets.
Global consulting firm Deloitte forecasts that the share of electric vehicles in the global automobile market will increase to 32% by 2030, compared to about 4% in the global automobile market last year. It is said that 3 out of 10 cars on the road are electric vehicles. As governments around the world and major global automakers are taking active actions to achieve carbon neutrality and rapidly transitioning to electrification, the era of electric vehicles is fast approaching. Everyone is looking forward to the life that eco-friendly mobility electric vehicles will change in the future.