Japan: A little late for EVs, but catching up with technological innovation
As part of its decarbonization policy, Japan is phasing out sales of internal combustion engines, and has decided to completely ban them by 2035. In addition, it will support the expansion of charging infrastructure to expand the supply of electric vehicles, as well as support the electrification of the current auto parts manufacturers and direct investment. However, Japan's 100% eco-friendly car conversion includes hybrid cars equipped with both an internal combustion engine and a motor.
As the three Japanese automakers were little late in developing electric vehicles, they started to develop 'the ultimate battery,' an all-solid-state battery. Toyota was the first among global automakers to start developing all-solid-state batteries, and before this, the company announced the launch of an electric model by unveiling its electric vehicle-only brand, bZ. Starting with the bZ4X, an electric SUV scheduled to be released in 2022, 15 types of electric vehicles (BEVs) will be introduced by 2025, including commercial vehicles, and 30 types of electric vehicles (BEV) by 2030. The strategy is to eliminate internal combustion locomotives from the product lineup by 2050. Lexus plans to introduce electric vehicles to its entire lineup by 2030 and convert all models sold in the global market to EVs by 2035.
Honda is also developing an all-solid-state battery with the goal of the late 2020s. The company has a strategy to start trial production of all-solid-state batteries before the first quarter of next year, and introduce electric vehicles with all-solid-state batteries in the late 2020s. In addition, following the small electric hatchback Honda e launched last year, the company plans to launch an electrified model by adding an electric SUV early next year. The automaker aims to increase the proportion of eco-friendly car sales to up to 70% by 2030, and plans to expand this to 80% by 2035 and change 100% to electric vehicles and hydrogen-electric vehicles in 2040.
Nissan also recently announced an electrification strategy focusing on the development of all-solid-state batteries. In order to increase the proportion of electric vehicle sales to 50% by 2030, it will invest 2 trillion yen to develop its own batteries and electric vehicles over the next five years. It plans to release 20 new electric vehicles by 2027 and three more by 2030. After that, Nissan plans to sell only electric vehicles and hybrid vehicles in Japan, the United States, China, and Europe, and ultimately only produce electric vehicles and hydrogen-electric vehicles.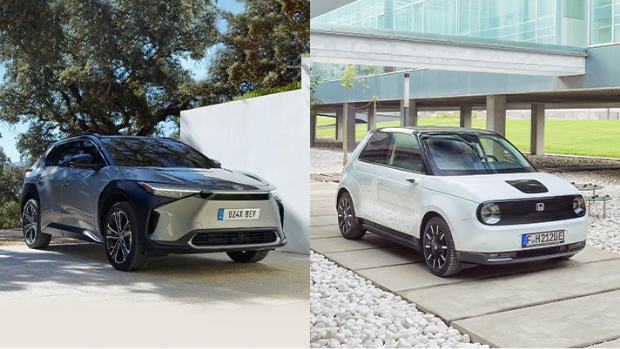 Toyota's electric SUV bZ4X (left) and Honda's compact electric hatchback Honda e / Photo: Toyota website